Recursos relacionados
Recursos relacionados
Institutos de enseñanza
Universidades
Market Research Analysts & Marketing Specialists
The Trend is Your Friend
Market research analysts and marketing specialists fall right in between those with STEM mindsets and having a liberal arts approach, dealing with numbers and people. With a focus on gathering data to understand industry trends, marketing specialists translate data-findings into a format designed to aid in the making of business decisions. From their office, marketing specialists use all sources of information including focus groups, opinion polls, surveys, and sales figures to aid in developing a plan with the marketing team.
Below are the top three areas hiring marketing analysts and specialists in the Gulf Coast region, keeping in mind that this vocation provides skills, easily transferable between industries.
Servicios de consultoría administrativa y técnica
Servicios de ingeniería y arquitectónicos
Diseño de Sistemas de Computadoras y Servicios Relacionados
---
The Gulf Coast Region is expected to have a 32 percent increase in Market Research Analysts by 2024 with an estimated 300+ job openings annually.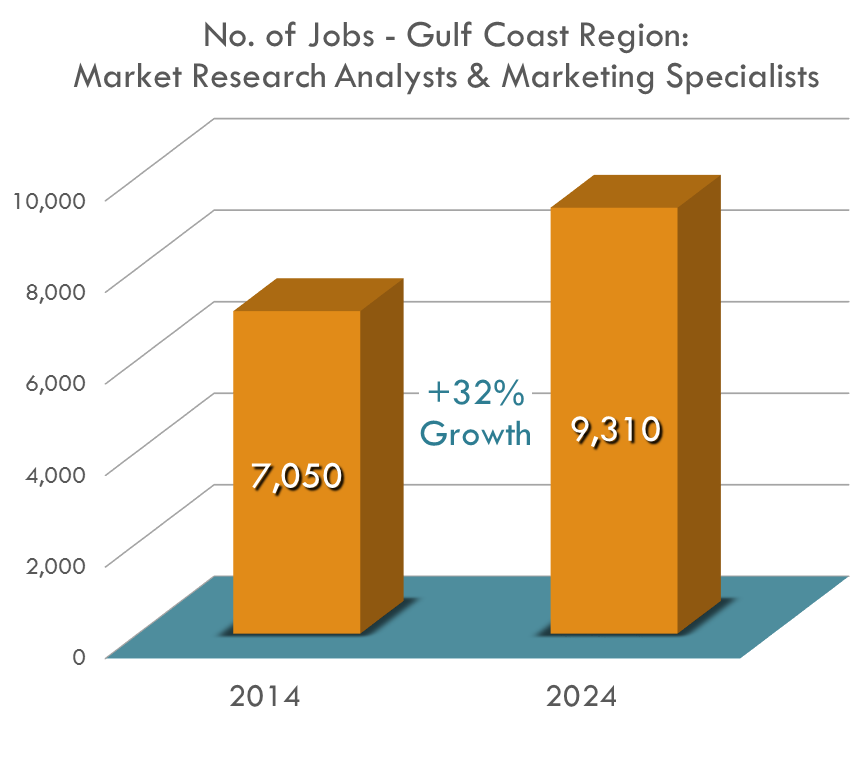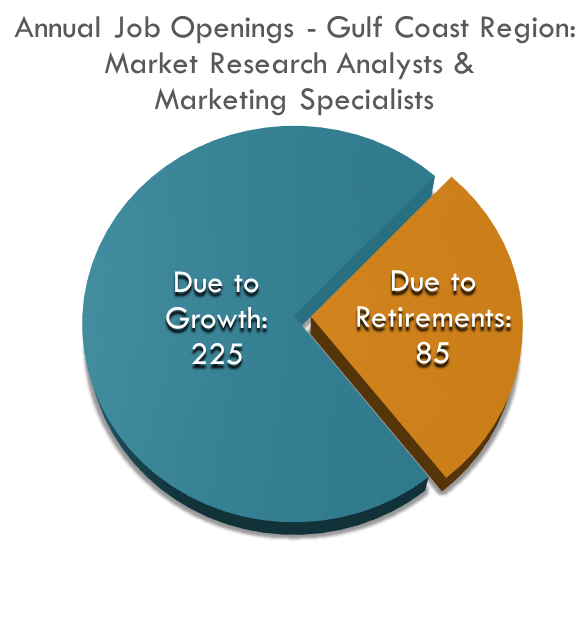 ---
An interest in math and understanding consumer habits can provide you with a median salary of nearly $70,000 per year!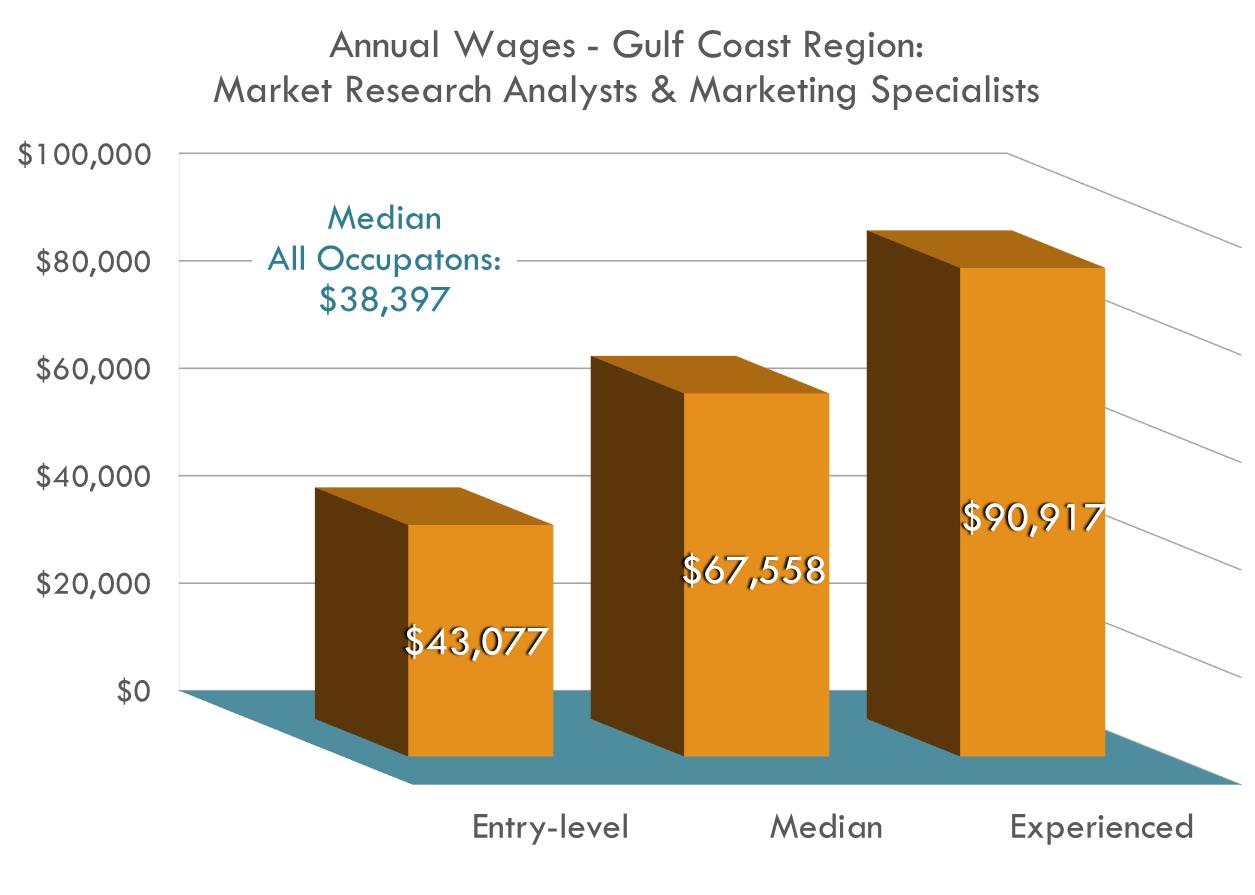 ---
¿Esta carrera es la adecuada para usted?*
These skills, interests, and knowledge areas are recommended for a career as a market research analyst. Los siguientes números describen la importancia relativa de cada área del conocimiento/habilidad para el puesto.
Information Analysis
Arranging large amount of information into a cohesive pattern or order, and being able to find conclusions or answers to possible questions.
Aptitudes comunicativas
Giving full attention to others and what they are saying while also conveying your own ideas clearly and concisely in writing and aloud.
Sales & Marketing
Being able to sell or promote a product or service, including knowing basic marketing tactics and strategies, product demonstration, and sales techniques.
*Fuente: Texas Career Check
---
If There Are Industries Selling Products, There Are Marketing Specialists In Demand !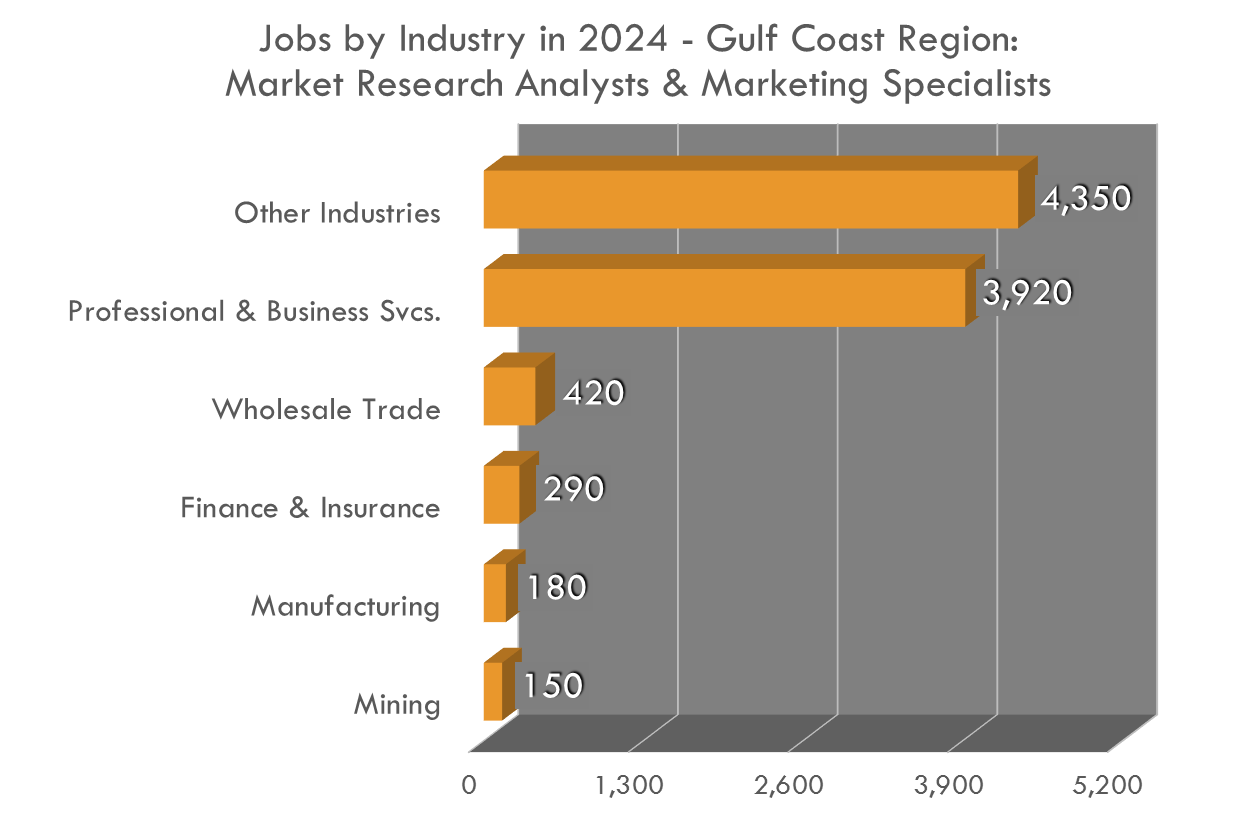 ---
Pathway to Becoming a Market Research Analyst
Aval: Negocios e industria
Most entry-level positions in market research analytics require a bachelor's degree in market research or a similar field of study. For top managerial and research positions, a master's degree in marketing research, statistics, or business administration (MBA) may be required. Researchers have a variety of different backgrounds from statistics and computer science to business administration and communications.

While certification for market research analysts is voluntary, one may show their competency and experience through the Professional Researcher Certification (PRC) supported by the Insights Association by taking an exam after three years of working professionally in market research.
---
Useful Tech to get Ahead
Business Intelligence Software: Tableau or IBM Cognos

Database Query/Management Software:

WorldAPP or Microsoft Access

Sales/Marketing Software:

Google AdWords, Marketo Marketing Automation
Software de planificación de recursos empresariales (ERP, en inglés): Microsoft Dynamics, NetSuite ERP, Oracle PeopleSoft
Paquete de Microsoft Office: Microsoft Word, Microsoft PowerPoint, Microsoft Excel
---
Market Research Programs in the Gulf Coast Region
Universities:
Principales empleadores en la región
Ocupaciones relacionadas: Marketing Managers, Compensation, Benefits, and Job Analysis Specialists, Analistas financieros, Survey Researchers
If you have questions about our Industry/Occupation Profiles or are an organization in the Gulf Coast Region, please contact webmaster@wrksolutions.com.
*Incluye los siguientes condados: Austin, Brazoria, Chambers, Colorado, Fort Bend, Galveston, Harris, Liberty, Matagorda, Montgomery, Walker, Waller y Wharton.